Description
Bolero Drink with Stevia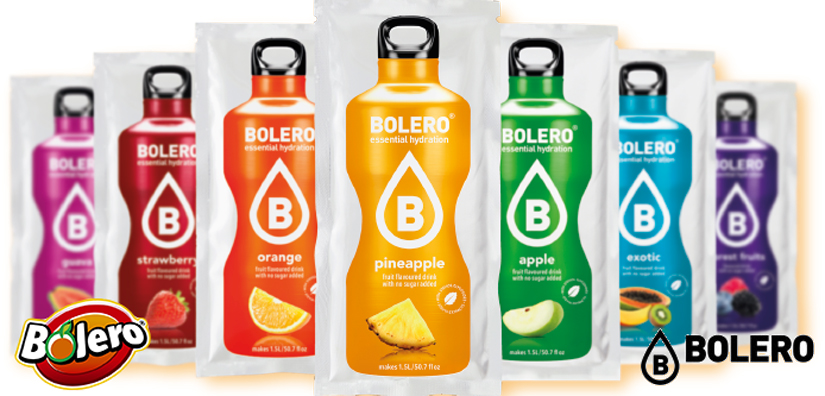 It accompanies you in all daily activities
Bolero with Stevia by Bolero takes care of your body, it is a drink with a delicious flavor, instant and refreshing. It is also ideal to ingest during diets for weight loss or muscle definition stages of sportsmen and athletes, because it is sweetened with stevia, it does not contain sugar. It is a low calorie drink. Stevia is a natural sweetener that does not add calories. It is a 100% natural alternative to sugar. Due to the fact that the body does not metabolize the glucosides of the stevia leaves, no calories are ingested. It is an ideal ingredient for weight loss diets, it does not contain calories and provides a natural sweet taste. It does not affect blood sugar levels, so it can be ingested by diabetics. It also decreases the levels of hypertension.
Stevia
It could work on blood glucose levels and reduce the risk of metabolic syndrome. It is also used in the preparation of desserts, in smaller quantities, because the heat intensifies the sweetness. Furthermore, Bolero with Stevia is enriched with vitamin C, which optimizes the normal energy metabolic process and also protects cells against oxidative damage.strong> Bolero with Stevia by Bolero is presented in practical individual sachets for its consumption, obtaining an exact dosage and allowing to prepare up to 1.5 liters of this drink. It also has other uses, because it can be used as a sweetener to flavor preparations, such as sweets, cakes or donuts.
Bolero
It specializes in the manufacture of instant drinks and is a world-renowned brand.Bolero with Stevia from Bolero is low in fat and carbohydrates. It is a formula that does not contain sugar and is sweetened with stevia. It is also enriched with Vitamin C, obtaining that in an ingestion of 100 milliliters 15% of the daily requirements of this vitaminare covered. It also has no preservatives and comes in natural flavors and aromas.
Bolero with Stevia is easy to dissolve and comes in practical individual sachets that allow you to prepare up to 1.5 liters of exquisite drink.
It is adietary supplementthat can be ingested by all people who want to take care of their diet by adding delicious flavors without adding calories. This product can also be ingested by sportsmen and athletes on a diet or in muscle definition stages. Bolero with Stevia from Bolero can also be combined with other sports and dietary supplements and can also add an exquisite flavor to cakes, sweets and donuts. It is a refreshing drink that can be combined with thermogenics with and without stimulants, conjugated linoleic acid (CLA) and L-Carnitine, to achieve excellent results in muscle definition and weight loss stages.
INGREDIENTS:
Bulking agents:
maltodextrin; aroma; natural flavors; sweeteners: acesulfame k, sucralose, steviol glycosides (stevia extracts); anti-caking agents: tricalcium phosphate, thickeners: guar gum, acacia gum; l-ascorbic acid (vitamin c).
KEEP IN A COLD AND DRY PLACE.

Net weight: 9 g.
Expiry: indicated on the sachet.
NUTRITIONAL INFORMATION PER 100 ML:
ENERGY 9.04 KJ / 2.13 KCAL;
FAT 0 G,
OF WHICH SATURATED FATTY ACIDS 0 G;
OF WHICH SUGARS <0.01 G;
FIBERS <0.015 G;
PROTEIN 0 G, SALT 0.005 G.